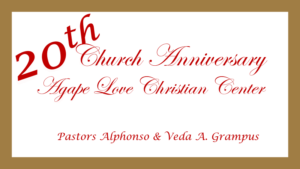 Agape is celebrating 20 years in ministry. God has been good and we are living with expectation as He continues to bring His promises into fruition. We invite you to come out on Friday December 1, 2017, as we celebrate our Lord and Savior for His goodness and mercy.
The Anniversary gale, will be held at the Villa Barone Manor at located 737 Throggs Neck Expressway, Bronx, NY 10465 –
7:00 pm Buffet Appetizer hour with Dinner and entertainment at 8:00 pm. Donation: $125 for adults, $60 for ages 10 – 17( Child menu only) and ages 9 – under are free.
For our 20th Anniversary, we are putting together memories in a journal. Please help to make this journal a success by advertising your business, listing your contact or adding a endearing message to your family and/or church. The journal submission is due on October 29, 2017. Print and complete the form, which can me mailed to Agape Love Christian Center at 1023 Allerton Avenue Bronx, NY 10469 or via email alcc20th@gmail.com. Payments for the journal can be mailed in to the Church or via PayPal below.
In the memo section of PayPal, please include your name purchase information.
Please print and share with others.